Within this post I share my personal results and reflections from blood glucose testing using a protocol based on the Personalised Nutrition Project and the Robb Wolf 7 Day Carb Test. In a companion Blood Glucose Testing DIY Guide I describe why and how to do this yourself together with references and resources.
The goal of this sharing is to provide a useful point of reference and comparison for others interested in blood glucose testing and invite you too to share your questions, intentions or own results. Writing also challenges me to make sense of what I learned from my first round of testing.
What is Personalized Nutrition Blood Glucose Testing?
When we eat there is an insulin response to food. The strength of the response varies based on the type and quantity of food, especially carbohydrate, plus a numerous other factors. Responses also vary widely between different people to the same food. Quoting from the Personalised Nutrition Project study.
. . . the blood sugar level of some people rose more significantly after eating sushi than after eating ice cream
Personalised Nutrition Blood Glucose Testing means testing and learning about your own responses to food using a simple protocol and some tools. Foods you may test your response to include but are not limited to carbohydrates.
Carbohydrates, Insulin Sensitivity, and Healthspan
Any intervention which improves or helps ensure Insulin sensitivity is a great candidate for support of healthspan. Healthspan is a term referring to the years of life spent in good health.  Insulin sensitivity (good) and avoidance of insulin resistance (bad) is robustly established as an influential factor for many health outcomes including avoidance of diabetes, cardiovascular disease and even all cause mortality.
For a great primer regarding Insulin Sensitivity and Healthspan watch the 5 minute summary video covering the findings from the first human study conducted by the Personalized Nutrition Project. 

My Insulin Sensitivity
HbA1C provides an indication of average blood glucose over the past 3 months and is used as a diagnostic for pre-diabetes and diabetes. Reducing HbA1C reduces the risk of diabetes. My insulin sensitivity is already very good based on recent HbA1C test results of 33 mmol/mol or 5.7 mmol/L. That places me far left into the green zone of the Diabetes.co.uk HbA1C spectrum.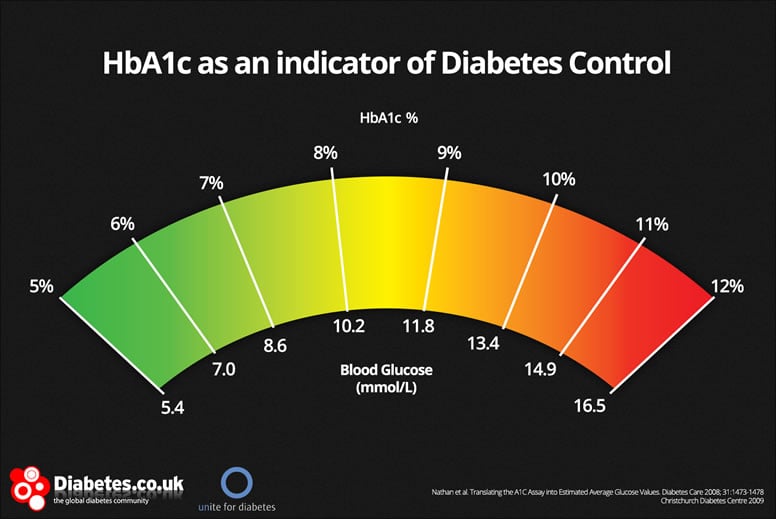 My HbA1C is unsurprising given my lifestyle incorporates multiple behaviors associated with desirable insulin sensitivity. These include frequent and intense exercise, sufficient and good quality sleep, time restricted eating (often called intermittent fasting) and following a relatively Low Carb High Fat diet with minimal refined carbohydrates and little added sugar.
As a consequence of these behaviors I accepted going in to this experiment that I might not gain any directly actionable insights from this experiment. Even if, for example, I ate donuts and found that they did not provoke a blood glucose spike, I am not going to incorporate donuts into my regular diet! I knew I might gain no more than added assurance that there is nothing I am doing that is potentially damaging to my long term healthspan. I prefer added assurance to added sugar (unless it is maple syrup) so proceeded with managed expectations.
My Personal Goals for Personalized Nutrition Blood Glucose Testing
I do always set specific goals for an n=1 experiment so that I can use them as the basis to determine whether an experiment is worth repeating or a practice worth adopting. For my personalized nutrition blood glucose testing I set the following goals:
Explore and learn about my personal insulin / glucose responses to both carbohydrates and meals

Identify dietary behaviors to start, stop or continue in order to maintain or improve insulin sensitivity

Gain insight into my level of insulin sensitivity or insulin resistance

Discover whether any perceived 'healthy foods' have a big impact on my blood sugar

Gain insight into the mitigation of combining fat or protein with carbohydrate

Enjoy the basic science, write about the experience & share the benefits of any insights with others
My Measurement Protocol
I was inspired by the Robb Wolf 7 Day Carb Test. Robb sets out a protocol that is well designed to identify carbohydrates that you might have an abnormal blood glucose response to. The summary is:
Select carbohydrates of interest and measure out 50 grams net carbohydrate worth to consume

Take a fasted blood glucose reading

Consume the 50 grams net carbohydrate

Take a post-meal blood glucose reading 2 hours after eating
It is a great and  simple protocol. I used it to some extent but also modified it in two significant ways. First is that I also tested regular meals and foods with a mix of protein, carbs and fat, not just individual carbohydrates.  Learning from the Personalized Nutrition project highlights that meals including fat and protein can actually increase the insulin response to meals, contrary to expectation. In their experiments, some people had a greater response to bread and butter than to bread alone, and some responded more to bread and butter than pure glucose!
For full  description of the protocol I used written as a do it yourself guide complete with a google sheets template  jump over to my Blood Glucose Testing DIY Guide
Blood Test Device Accuracy
At the beginning and end of each test I often used 2 or 3 devices to take measurements. These were a Freestyle Libre Flash Glucose Monitor measuring from interstitial fluid and both Freestyle Optium Neo and On-Call Dual GK finger-prick devices measuring from blood.
Readings from the blood test devices were within 0.5 mmol/L of each other. The Flash Glucose readings however were somewhere between 0.5 and 1.5 mmol/L different to those. Impressions I have gained from reading the experience of other users suggests that the Freestyle Libre Sensors may be less accurate when blood glucose is low or changing rapidly. Since my blood sugar is usually relatively low this may have been the explanation for the significant deltas.
My Blood Glucose Testing Results
I tested my responses to three type of foods
Single or simple ingredient foods primarily containing carbohydrate, such as bananas and bread

Several whole food style protein bars

Real whole food meals
All result charts are presented in mmol/L, the common unit measure for blood glucose throughout Europe. For quick reference there is a simple conversion chart below. For more detail there is a conversion calculator for mmol/L to mg/dl
Carbohydrate Test Results
For each of my carbohydrate tests I did carefully use 50 grams of Net Carbs to enable like for like comparisons.

The carbs which produced the highest peaks – banana, dates and popcorn – also appeared to result in a dip below my pre-meal blood glucose. This might be indicative of a boom & bust cycle that could lead to sugar cravings and unhealthy snacking. I did experience significant appetite or hunger after around 90-120 minutes this was unusual for me at the time of day I was experiencing it. This positively reinforces my preference for not consuming carbohydrates alone and preferring lower glycaemic index and load foods to these.
I expected a greater blood glucose response from a Genius Bread sample. Genius Bread is gluten free and the main ingredients are refined starches. My relatively muted response to the refined starches makes me interested in learning how many copies of the AMY1 'carb breakdown' gene I have. I have a 23andMe genetic profile but this does not cover AMY1 and I since I have no plans to increase my dietary carb intake this is not something I will pursue immediately.

My favorite sweetener, used sparingly, is erythritol.  I love trying to explain what erythritol actually is. It is a sugar alcohol! Not a sugar! Not an alcohol! Potentially protective of tooth enamel, like xylitol. Potentially a potent antioxidant. Critically, it has a glycaemic index and glycaemic load of between 0 and 1 so my expectation was that it would have zero impact on blood glucose. This turned out true. I did feel nauseous during the test. I have never before consumed so much in one sitting and have not ever experienced nausea or any discomfort from consuming this in smaller quantities incorporated into foods. Erythritol will remain my sweetener of choice.
Protein Bar Test Results
As for my carbohydrate tests I consumed enough of three types of protein bar to get 50 grams net carbs for a like for like comparison.

Pulsin' Bars are among my favorite backup snacks on the go whilst travelling so I was pleased to observe a  modest blood glucose response. I am perplexed by the response to the 9 Bar sample which contained fewer carbohydrate grams and fewer sugar grams than the Pulsin'. Perhaps it is the type of sugar, primarily rice syrup in the 9 Bars, that explains the unusual response.
If I was interested in regular use of rice syrup the 9 Bar result would prompt me to dedicate a test to it entirely. I am definitely not interested in consuming rice syrup however. I prefer the flavor of other sweeteners and emphasize that the nutritional differences between them are negligible. Sugar, refined sugar, pick your favorite and enjoy it sparingly. If you want nutrients have an extra sprig of broccoli.
The Primal Pantry bar result is also unsurprising. The first ingredient is Dates and the blood glucose response is similar to that I observed from eating dates alone. Big juicy medjool dates.
Real Meal Test Results
For my real meal tests I did not attempt to consume 50 grams net carbs. I instead wanted to observe my blood glucose response to typical meals.

Results from consuming an entire gluten free pizza were another surprise. I expected a blood glucose response similar to that from the Gluten Free Baguette. However if the food label claim is correct the Pizza Express Gluten Free Margarita I tested has an incredible amount of fiber and almost no sugars. I can barely believe this is accurate and have written to Pizza Express to query it. If it is true it would help explain the very moderate blood glucose response. The ingredients do include psyllium husk. Psyllium Husk is a rich source of soluble fiber known to reduce the blood glucose response to foods.
The results from my more typical meals rich in protein, fats, fibre and with low in carbohydrate were all as expected. These results simply tell me that my most common food choices are ones which support insulin sensitivity and stable blood sugar. Correlated with this, I almost never experience cravings for sugary or starchy foods nor any other symptoms associated with refined carbs and sugars like late afternoon brain fog or lethargy. The hunger sensations I experienced following the carbohydrate tests were very unusual and unfamiliar and I would very much not like to battle them on a regular basis.
My 6 Key Takeaways
Validation of my Dietary Template – My blood glucose barely even reached the 7.8 mmol/L (140 mg/dl) threshold set for 'normal' blood glucose two hours after eating. Even better, none of my regular meals brought my blood glucose over the 5.9 mmol/L (106 mg/dl) threshold which is the upper boundary for 'normal' fasted blood glucose.  Blood glucose was always well below this at the two hour milestone. This reinforces my encouragingly low HbA1c and expectation that my lifestyle and diet are already well designed to avoid insulin resistance.
Prompt to explore a true Low Carb High Fat (LCHF) Diet – Conducting this test stimulated my interest in a truly LCHF or even Ketogenic diet. The timing for my test coincided with publication of PURE study results in the Lancet which headlined an association between higher carbohydrate intake and all cause mortality. There are many nuances that need to be considered against this headline. For example there was no distinction between refined and unrefined sources of carbs and it is likely that diets higher in total carbs are also high in refined carbs.
There are however strong arguments in favor of a LCHF diet. Diabetes.co.uk recommend it and provide a list of the potential benefits. Starter resources I recommend to build familiarity with are an interview with Dr. Eric Verdin by Dr. Rhonda Patrick, a recorded seminar by Dr Stephen Phinney, co-author of the Art and Science of Low Carbohydrate Living and the Diet Doctor website. 
Retest to contrast AM and PM responses – For greater comparability I performed all my tests starting from a fasted condition so the food eaten was my first of the day. I practice time restricted eating with a window of mid-day to 8 pm most days. This does mean I often have a relatively large meal around 7 pm. I would like to observe how similar or different my blood glucose response is based on the time of day. I would particularly like to discover whether any of my more typical evening meals result in a blood glucose rise that is sustained until my typical bedtime and whether this is turn is reflected in my fasted glucose the following morning.
Retest more 'order of food' consumed combos – I did not incorporate any tests where I varied the order of the food consumed. Eating out socially is a huge pleasure for me which I enjoy often. It would be very useful for me to know whether a simple practice of consuming a fiber rich dish as a starter would reliably moderate the blood sugar response to the following main meal. For example, would a salad eaten before pizza result in a more moderate response than the pizza eaten alone? If so this simple practice, something I already do quite often, would be an easy adaptation.
Test more Pizza – Joking aside, pizza is one of my favorite 'treat' meals which means I might eat it once a month or so whilst eating out. I have intent to go on a walking holiday in Italy sampling gluten free pizza around Rome and Naples. I am curious to discover whether the exceptionally high fiber values of the Pizza Express Gluten Free Margarita explain the muted blood glucose response. I have been known to taste test pizza!
Test Glucose and Psyllium Husk – I regret not testing glucose as this would have provided a great benchmark against which to compare everything else. Prompted by the Pizza test I would like to explore whether the simple addition of Psyllium Husk to meals could be effective at reducing blood glucose response. It is a simple enough ingredient to add to many dishes, soups, smoothies, sauces, baked goods and more.
What Next for me, and you?
I will conduct a further round of testing incorporating the key takeaways and also a test of pure glucose to provide a strong point of reference for all other foods consumed.
I am also motivated to experiment with a LCHF or even a well formulated ketogenic diet and observe whether that lowers my HbA1C even further. I would monitor my body-weight, composition, cholesterol profile, chronic inflammation indicated by C-Reactive Protein (CRP) and Heart Rate Variability (HRV) whilst doing so to help assess whether the diet was something to consider following periodically or continuously since insulin sensitivity is very important but not the sole factor determining the healthspan supporting virtues of  a dietary template.
Aside from the metrics indicated I will also consider pleasure since my existing health is already robust and I tremendously enjoy my food. For evidence of that, well, just check out the rest of my blog. You might be surprised at the things I appear to be eating. For context, the foods I blog about practically make up less than 5% of my regular food. My flexitarian diet is dominated by whole, plant foods. I pretty much follow the great advice from Michael Pollan.
Eat Food, Not Too Much, Many Plants – Don't eat anything your grandmother wouldn't recognize as food
As soon as I can beat that advice, I will try and write a best-seller!
And you dear reader, what next for you? Please share this with anyone interested. Read my Blood Glucose Testing DIY Guide if you might do this yourself too. Tell me about your goals and results, I would love to hear of them and help if I can.
(Visited 918 times, 1 visits today)