What is Brasserie 't Zusje?
Brasserie 't Zusje is a chain of Tapas restaurants with branches throughout the Netherlands. Each offers an all you can eat deal which at the time of writing is under 30 EUR per person. The Brasseries offer to cater gluten free, lactose free and nut free and have a dedicated vegetarian menu available.
I visited a branch located inside the Kurhaus Hotel in The Hague. The Kurhaus Hotel itself is a 5 star hotel located on the Scheveningen beachfront and deserves the grand hotel title.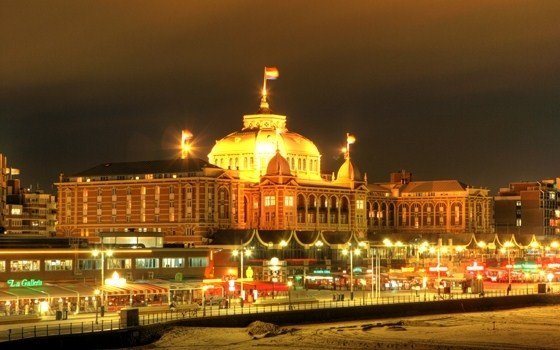 Brasserie 't Zusje Free From Menu
Both the main menu and vegetarian tapas menu for Brasserie 't Zusje are available online in Dutch and google translate works well. Within the venue there are English menus. These do not directly indicate what is free from. The free from options are instead indicated on menu strips that are also used to order dishes. These menu strips are not available in English but since they are used together with the menus selection of gluten free dishes is made simple enough.
Within pictures I took you can see what was available gluten free by looking at the items that are *not* struck out on the menu cards located to the right of the menus. In total 8 of 18 items on the vegetarian menu are available gluten free, 27 of 44 main menu items and 7 out of 11 desserts. This probably changes from time to time but the headline is that the range is significant.
There are some quite hilarious modifications to some dishes to make them gluten free. My personal favourite is a Red Velvet Cake (ooh, yummy!) with rhubarb compote and ice cream served without . . . . the Red Velvet Cake! I actually tried another, a refreshing couscous salad with nuts and brie served without . . . . the refreshing couscous! From the main menu, all the grilled meat options are served without a marinade.
Brasserie 't Zujse could surely do a little better. For example by subbing in the quinoa they already offer for the missing couscous and having a gluten free marinade. However the number and variety of dishes on offer gluten free is impressive and the quantity is literally unlimited so missing out on parts of dishes is not so terrible. Ordering operates in rounds. Each round each person orders 2 dishes. You have as many rounds as you wish. Yes, that means could you could have 10 rounds of dessert!
Another plus is that there *is* gluten free bread so the house standard entree of bread with three dips *is* included for gluten free eaters.
Food Glorious Food?
So, Brasserie 't Zusje offers unlimited dishes but are they worth eating? Based on the 6 vegetarian and 2 dessert options I tried, yes. The food is at least good if not outstanding and there is plenty of sensory pleasure to be found in the variety of tastes and textures that you can cover thanks to the tapas style.
My most interesting dish was a salad of Sugar Snaps, Peas, Basil Mayo and Popcorn Cheese. Popcorn cheese? Here is a little molecular gastronomy at work. The cheese is formed into a thin bubble and offered a pleasingly crispy texture.
Of my main dishes my favourite was a Portabello stuffed with veggies and topped with melted cheese. Umami and crunch and juiciness all together are a great combination.
Tomato Risotto, Ratatouille, Quinoa Salad and of course my "without the couscous" Brie and Nuts were all simple but fresh and flavoursome. Each veggie dish was accompanied with some kind of sauce or condiment that provided a tasty, mouthfeel enhancing compliment.
Shielding my eyes from the Oreo Caramel Cheesecake that was of course *not* gluten free I relished both my desserts of Creme Brulee and Quark Ice Cream. In particular the Creme Brulee which was superbly paired with Butterscotch Ice Cream. Rich, luxurious and creamy but also punctuated by crispy butterscotch pieces.
Amongst the meat eaters I dined with a 'Mini USA Cheeseburger' received lots of love. We estimated that it would take only a dozen or so to be equal in calories to something you might actually find in a US diner!
My Brasserie 't Zusje Recommendation
Tapas works fantastically well for eating socially. Business, family or friends. The set price menu, unlimited food, vegetarian, gluten free and lactose and nut free dishes available make it a great option for many groups.
I do encourage Brasserie 't Zusje to improve their gluten free range further with some simple steps. Add a gluten free marinade. Where you already have a ready alternative provide substitutions instead of just removing part of a dish. Oh and goodness me, it is 2017, gluten free brownies might actually outnumber humans. Get a gluten free brownie!
Even if no improvements are made I would still eat here again and recommend this to a fellow gluten free diner. Both the chef I contacted in advance and my main english speaking server demonstrated robust allergen awareness that gave me the confidence to eat. If Brasserie 't Zusje did choose to they could upgrade to become one of the best gluten free restaurants I know of in The Hague.
Go to Brasserie 't Zusje Kurhaus!
(Visited 463 times, 1 visits today)