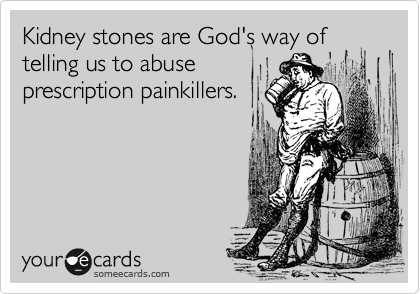 Ironically, my first post in this Living Well category is going to be a story about living not-so-well thanks to kidney stones.
Search online for kidney stones and you will quickly find mentions that females that have both passed a stone and given birth find the former more painful. What I have not found to date is the relative rating for *failing* to pass a kidney stone, which instead blocks drainage from the kidney which then swells to twice the normal size. Even better?
This is Part One of a series, covering the initial horror of discovering my first kidney stone. Part Two covers the horror of living with a Kidney Stent until I could have that and two stones removed. Part Three will cover the horror of giving up chocolate and spinach.
There is lots of horror. Enjoy :-)
Thursday evening prior to a Easter Bank Holiday Weekend
I had not recently been more enthused about my health and fitness. In addition to being in good shape and free-from any complaints there were four specific energizers.
First, I had just had a first detailed consult with a functional medicine practitioner who I sought to partner with to determine and pursue health enhancement goals. Next, I was about to change my resistance work program, something I do routinely but which always provides a burst of enthusiasm to tackle the new thing. Three, I had finally discovered a set of Bluetooth headphones which appeared to be an ideal partner for my outdoor aerobic workouts. Four, I had a fitting scheduled for a customized bike build to replace my 10 year old time-served beater (term of endearment for an old, beaten up bike)
Added to that I had planned a gastronomic delight on the Friday evening in the form of visiting the fine dining restaurant part of the Truscott Arms, one of my favorite places to eat in London.
Hell yeah!
Friday AM, 0500
I do not perform a lot of 'chronic cardio'. I do perform and really enjoy one long session per week where I typically combine hill sprints with a variety of bodyweight exercises performed in intervals – skipping, burpees, shadow boxing and other fun stuff. So on the mornings when I get to do this I wake up keen to get started and really earn my breakfast. Today was the day for that.
Huh, but this morning, I awoke with notable pain located in my right flank . . . . did it wake me up? Maybe. Did I train my obliques the day prior? No, no that is not it. A muscle strained from other exercise perhaps? . . . maybe but it feels different somehow.
Not good, is it getting worse? I hope this doesn't interrupt my precious exercise.
Friday AM, 0600
Oh man, this has gotten worse and worse. What the heck is it? I have already attempted to vomit twice without success, does that mean it is some kind of gastrointestinal issue? What did I eat yesterday? Check Cron-O-Meter, no likely culprit. This is going to stop me from training this AM, dammit, but . . . I can hopefully make up ground tomorrow.
Friday AM, 0700
Pain is now reaching 8 or so on the pain scale, I am scared by it, as much due to the mystery as the sustained and building intensity. I call my GP out-of-hours service and am told to expect a call back within 2 hours. Not sure I can tolerate this pain for up to 2 hours . .
Friday AM, 0730
Pain has escalated further, 9+ on the pain scale. I hesitate but decide to call for an ambulance. I can barely answer the seemingly long-long series of questions they ask about my symptoms. I am told an ambulance has been dispatched and may take up to 45 minutes. I unlock my front door, place my wallet, keys and phone in my pockets, curl up on the floor, vomit into a bucket, tremble and wail in pain.
Friday AM, ???
Ambulance crew arrive and spend some minutes assessing my quivering figure on the floor. I respond to their questions whilst shivering with shock from the pain. They ask me for my pain scale rating. I shout 10, 10, please make this be 10 in reply. I really hope this is 10, I do not know how I would cope with anything more. Oh and when I say 10, I mean the 10 on this modified pain chart.
I am escorted to the ambulance, the crew not having any idea what the cause is of my troubles. They take what seems to be hours (maybe 2 minutes) to prepare a paracetemol injection. It has absolutely no impact. They progress (hours again) to provide 1 mg morphine. No impact. Another 2 mg morphine. A little impact but pain still very notable. Another 2 mg morphine . . . . aaaah, now the pain has subsided. It is still present and will clearly return but thanks to 5 mg morphine, I do not really care anymore. I am more focused on this lovely sensation of being pressed gently to earth, cushioned, freed of worldly cares.
15 Minutes Later
Oh hell the pain is returning strong, do something! They did, more morphine . . . sweet sweet morphine. Wooooo :-)
Ambulance ride to A&E
More morphine, la la la lal la, mmmmm
A&E
Possibly along with people that had over-consumed Easter Eggs I was in the busiest A&E in London, St Thomas. I used to live in a building opposite this place and not 5 minutes would pass in any 24 hour period without sirens blaring. I begin feeling okay, my morphine levels are pleasing and I am in the place I need to be to get diagnosed and treated. However I am left unattended for 10s of minutes and the pain returns and grows into a beast. I am back to writhing in pain and groaning loudly. Either my turn arrives or I become enough of a disturbance that I am attended to and for the first time in my life, given an enema. Diclofenac. It kills the pain quickly and completely, wow! I mean, sure, I'll fight you for the morphine but this stuff is actually much more effective for . . . kidney pain.
I am examined, ultrasound, x-ray, CT scan, CT scan again. From this the attending consultant learns and tells me that I have a kidney stone that has blocked the ureter from my right kidney, which appears to be twice the size of my left kidney due to inflammation and swelling from backlogged fluids. Not good. I am scheduled for immediate surgery. Oh, I have a second stone too, but it is at least keeping a respectful distance from narrow tubes. For now.
Post Surgery Recovery
I have had 8 surgeries under general anaesthetic prior to this one. My wake-up experiences have been genuinely if bizarrely enjoyable, like softly drifting upwards from a dream I cannot remember. This one is different, I have a combination of a horrible burning urge to urinate matched by a complete inability to do so. Only partially conscious, I try and fail and try and fail to urinate, succeeding only in generating agony which overwhelms the post-op painkillers.
The surgery installed a kidney stent which has opened up a new passage allowing drainage. The kidney stone remains in place. I am told this needs to be so to allow inflammation to subside prior to another surgery to remove it several weeks later. Until then I also have the stent. Also no strenuous activity. Also, <shudder> over the next weeks I grimly adopt the phrase *subjecting myself to agony* to refer to visits to the bathroom. Imagine barbed wire and razor blades and burning lava.
I cannot sleep that night. I need to subject myself to agony every 30 minutes. My reading about kidney stones begins
Also, morphine. Sweet morphine.
(Visited 980 times, 1 visits today)